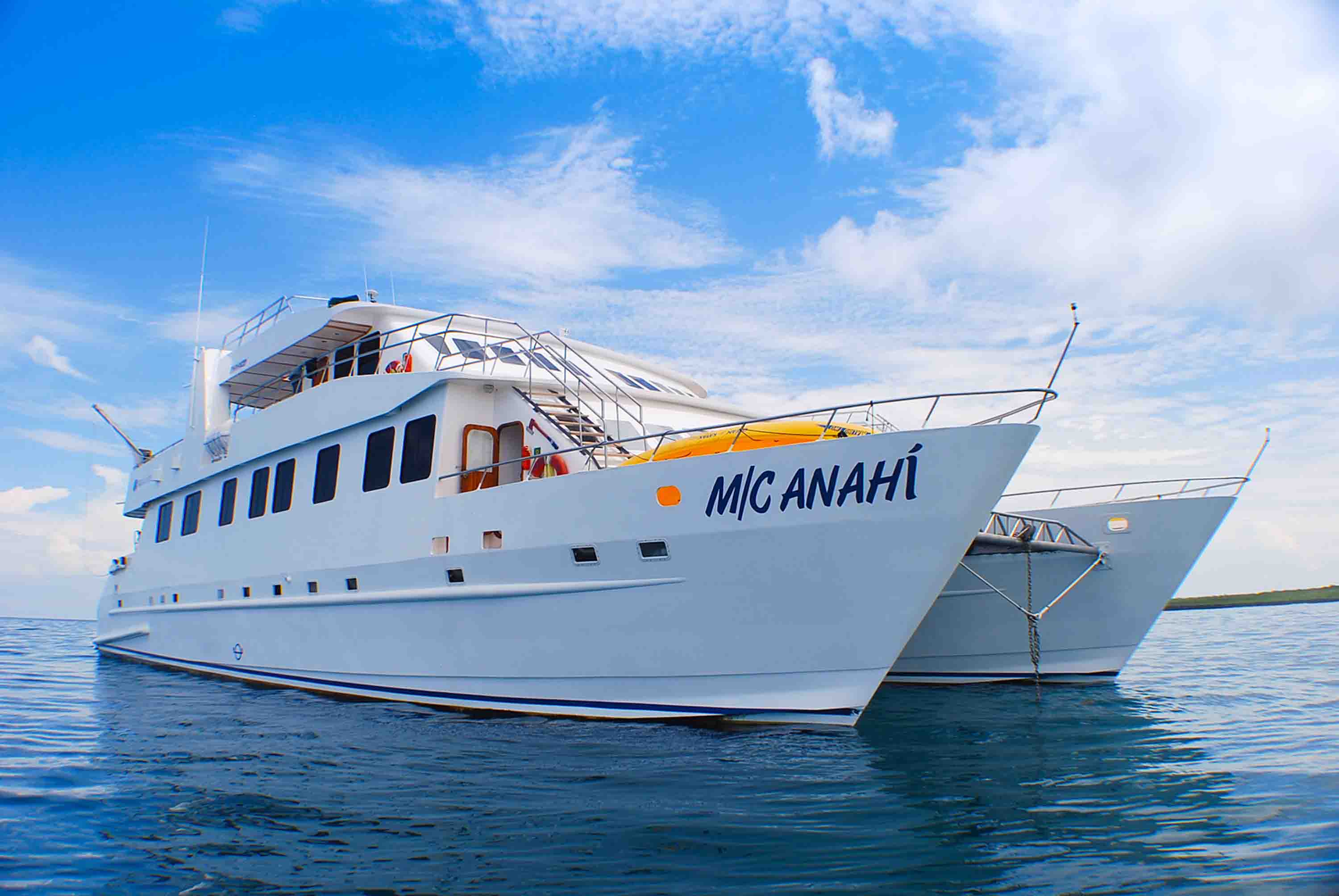 The ANAHI is a Power Catamaran Yacht, built Ecuador in December 2006; it offers high comfort standards and unparalleled stability when sailing around the Archipelago, which is guarantees a restful and relaxed experience. The Catamaran accommodates up to 16 passengers in 8 spacious cabins/suites: 6 standard cabins on the Main deck and 2 fantastic suites in the Upper deck of the boat. All of them have portrait-style ocean view windows, wooden floors, private bathroom, safety-box, air-conditioning and complete amenities to create a relaxing ambiance for your resting time. In the Upper deck with Jacuzzi and bar, enjoy a relaxing time when you are not exploring the Islands; tasteful and varied meals are served in the dining area and you can take advantage of the variety of videos and books about the Galapagos and Ecuador and the cozy lounge. Your friendly 8-membered crew will always be ready to make your journey far more enjoyable and your naturalist bilingual guide will be the perfect companion during all excursions and activities; his vast experience and knowledge are perfect to enhance guest's experience on each site and he is also great with children and families.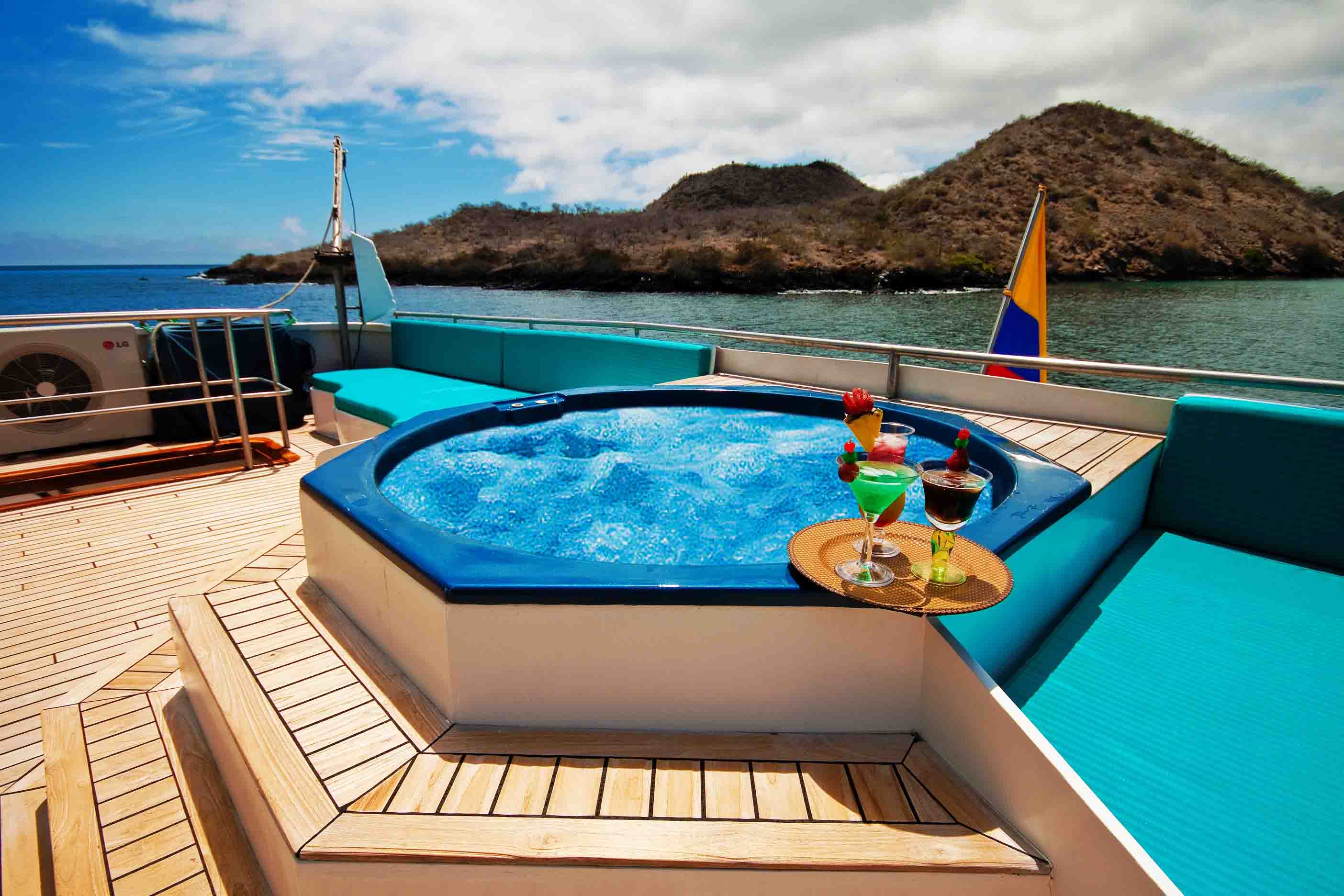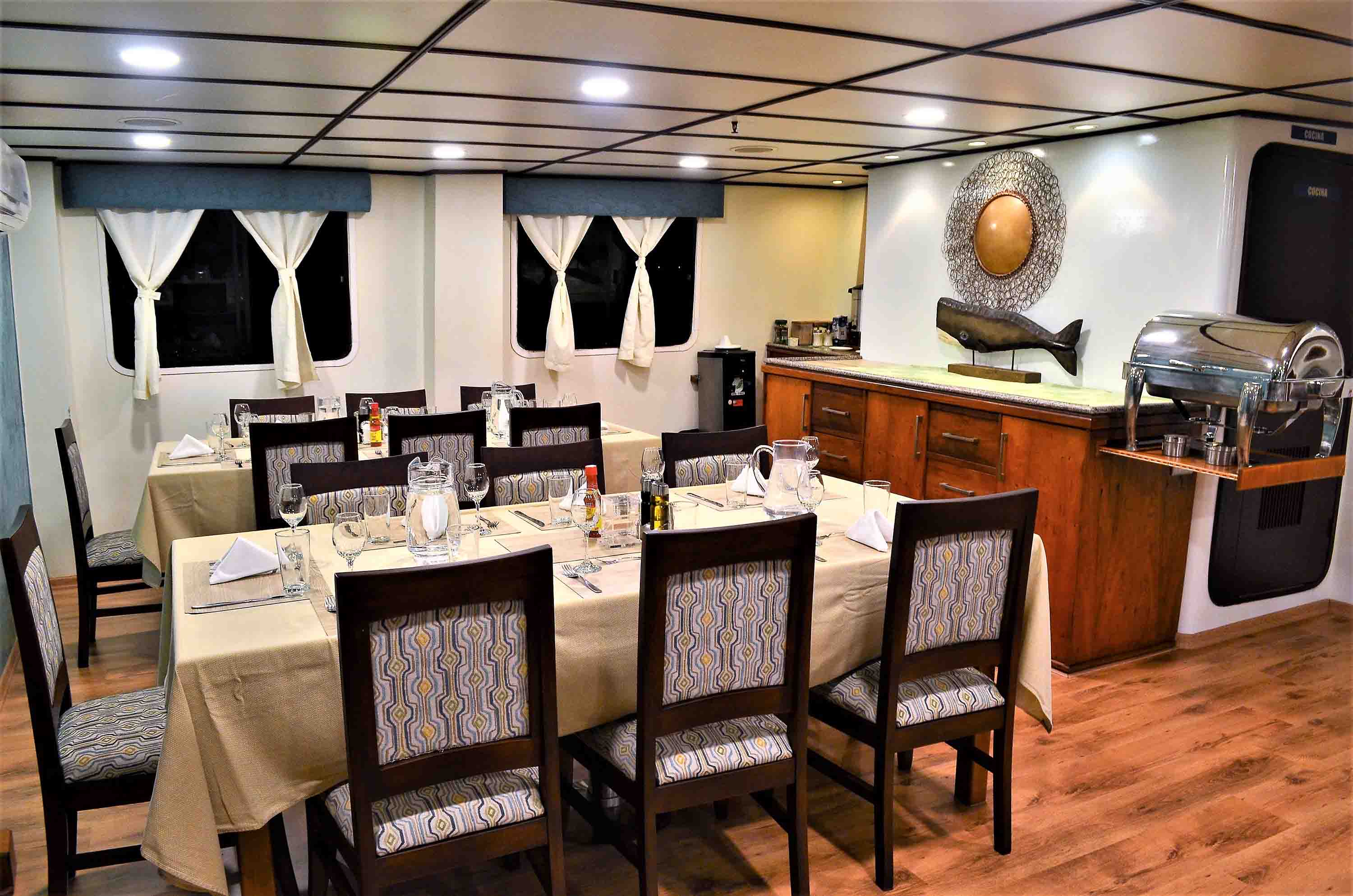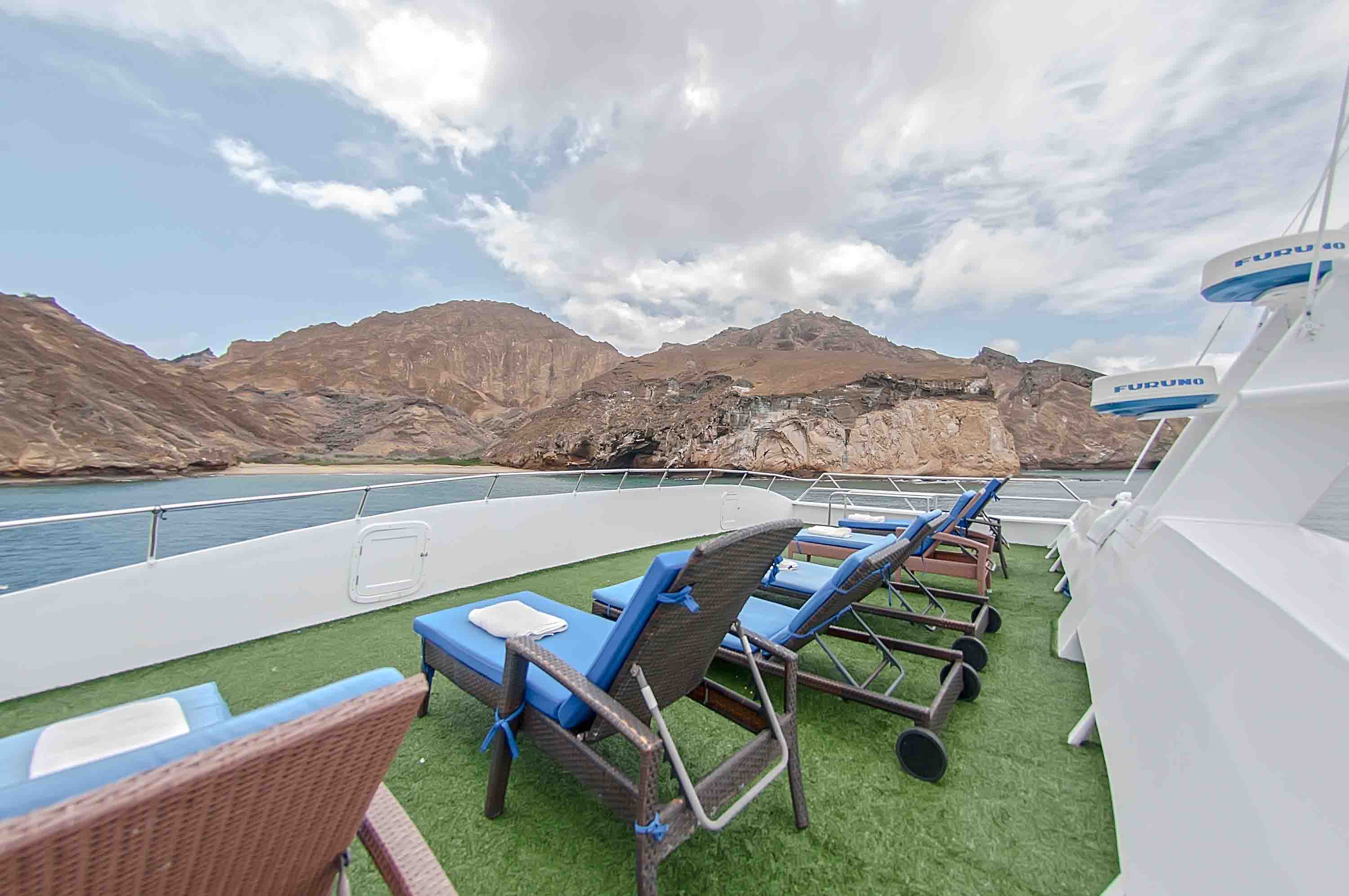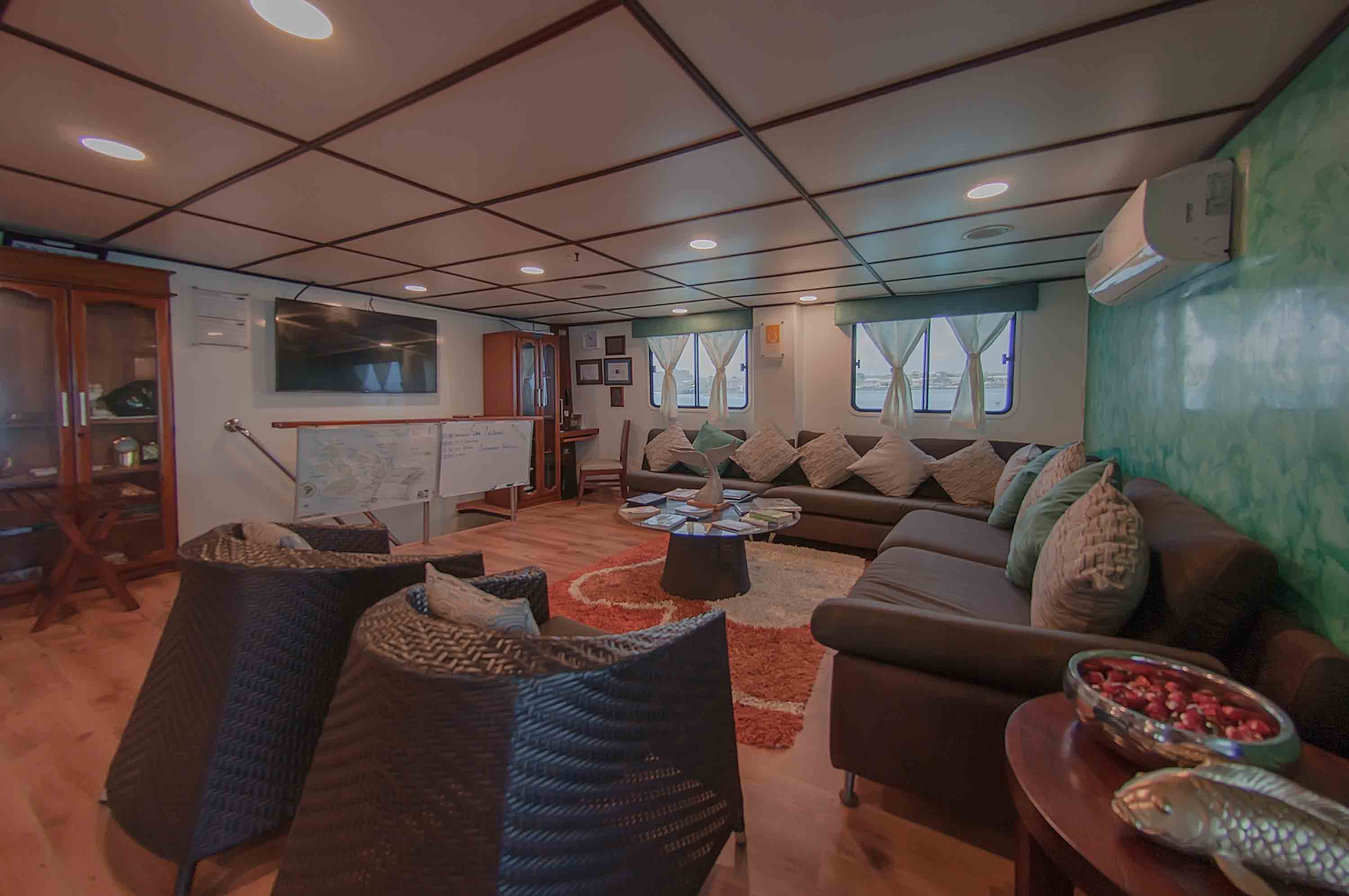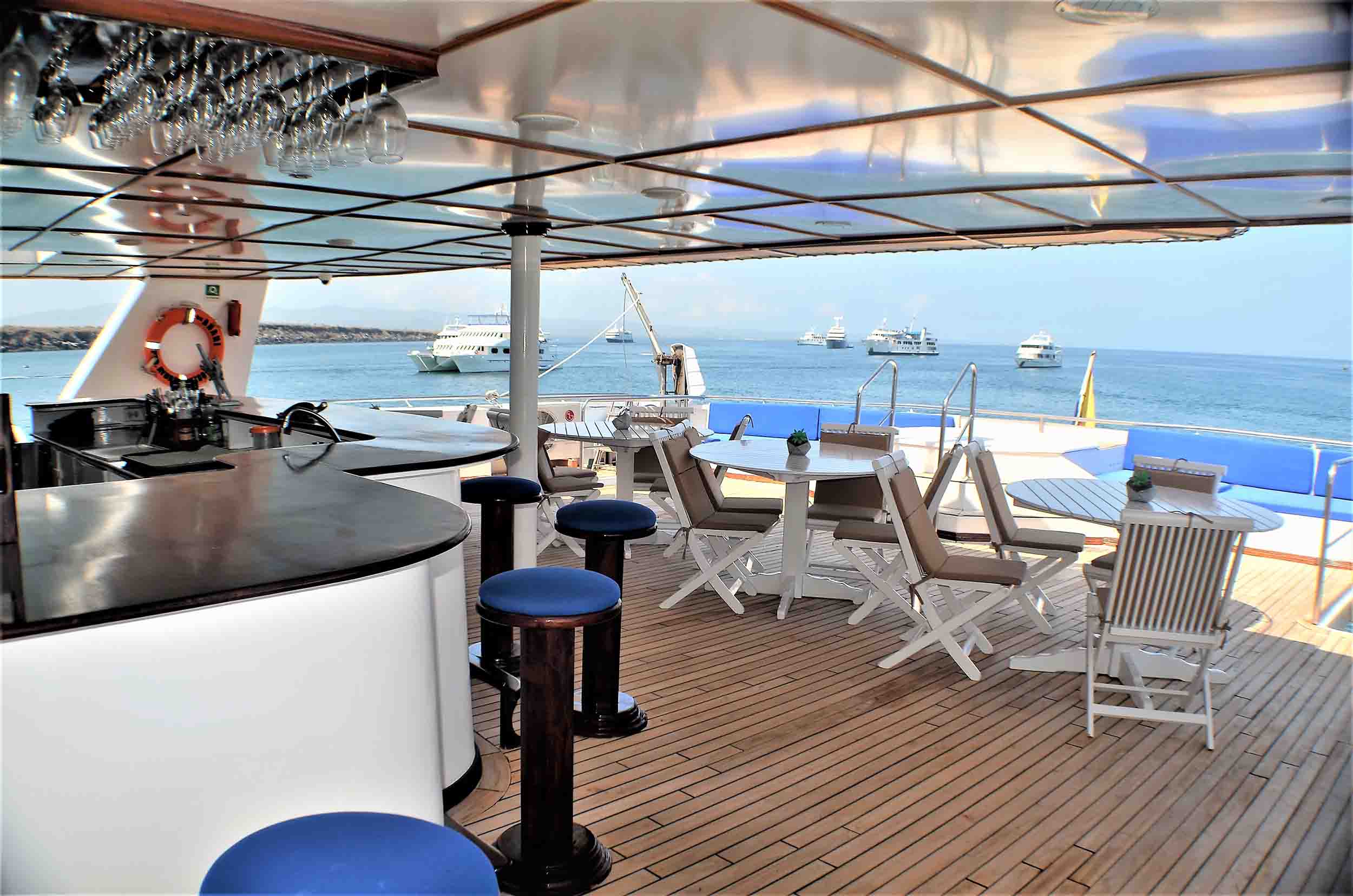 Technical specifications
Type: Motor Catamaran
Category: First Class
Year: 2006
Length: 90.50 ft / 27.60 m
Beam: 36.08ft / 11m
Capacity: 16 passengers
Main Engines: 2 x John Deere IMO 300 HP each
Electric System: 2 x 65 kW generators (IMO) (110v and 220v. AC)
Speed: 10 knots
Water Capacity: 3000gal plus water maker with a capacity of 1000 gal/day
Diesel Capacity: 2500 gallons
Material Construction: Fibre Glass
Interiors: Wooden flooring
Exterior: Teakwood flooring
Crew: 9 + 1 naturalist bilingual guide
Navigation & Safety Equipment: Two 48 miles Radar; Echo sounder; GPS; VHF radio; Epirb; Magnetic compass; 2 Rigid life rafts for 15 passengers each; 30 SOLAS life jackets; fire & smoke detectors; complete fire system; 2 Zodiac rafts for 10 persons each. Inmarsat Satellite Phone.
Safety equipment complies with international Coast Guard regulations.
Accommodation: 12 passengers in 6 twin bed standard cabins on main deck and 4 passengers in 2 suits on the upper deck.
All cabins with private bathrooms, hot water and air-conditioning.
Itineraries
Catamaran ANAHI offers incredible and diverse itineraries for 4, 5, 8 up to 15 days; this gives you the opportunity to choose the right program considering your preference for visits, sightseeing, wildlife spotting and marine exploration (snorkeling). Please see below the main itineraries that the yacht offers and do not hesitate to contact us so we can offer you feasible departures on your preferred itinerary with the best possible price for your advantage.
Isabela Island: Puerto Villamil & Sierra Negra Volcano
Isabela Island: Punta Moreno & Elizabeth Bay
Isabela Island: Urbina Bay & Tagus Cove
Fernandina Island: Espinoza Point & Islabela Island: Vicente Roca Point
Santiago Island: Egas Port & Rabida Island
Chinese Hat & Bartolome Island
Seymour North – Transfer out
Baltra Island & Bachas Beach
Genovesa Island: Darwin Bay & Darwin Bay Beach
Plazas and Santa Fe Islands
San Cristobal Island: Punta Pitt, Kicker Rock & Lobos Island
San Cristobal Island: Junco Lagoon, Cerro Colorado Galapaguera – Transfer out
San Cristobal Island: Interpretation Center, Cerro Tijeretas & Punta Carola
Española Island: Punta Suarez & Gardner Bay
Floreana Island: Punta Cormorant, Devils Crown & Post Office Bay & Asilo de la Paz
Santa Cruz Island: Charles Darwin Research Station & Giant Galapagos Turtles- Transfer out
We are here to help you create the perfect holiday for you and your travel companions in the enchanted Islands, please fill all required fields and one of our experienced Sales Executives will gladly offer you the best personalized assistance and guidance to find the most fitting itinerary and departure for your dream cruise in the Galapagos!